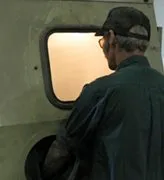 TOLL HOT PRESSING SERVICES & MORE
MICI can make your custom parts by creating graphite dies and hot pressing to your exact specifications. We have over 40 years of experience hot pressing most of today's advanced ceramics, including boron carbide, carbon nano tubes (CNT), silicon carbide whisker, silicon carbide, silicon nitride, and more.
Our facility is equipped to handle extreme pressures, temperatures, and heating profiles. Our products are all American-made, and our isostatic press is suited for a wide variety of materials and applications.
LET US GET STARTED ON YOUR PROJECT TODAY!
If you're ready to start your hot pressing project, just call us at 716-262-8357 to learn more about how we can help you. We can offer you a quote on your service and we can follow any specifications you might need.