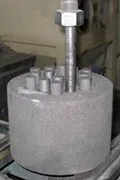 PROVIDING CUSTOM NOZZLES FOR THE WHOLE U.S.
At Malyn Industrial Ceramics, Inc., we know how important it is to meet the needs of our customers. Our advanced ceramic components come in many styles, sizes and materials, but we understand that some businesses or certain machines require unique custom nozzles and parts.
Our experienced and professional craftsmen can control the entire process through computerized order tracking, and we'll make sure everything is handled carefully. From mold making and checking our materials to our final inspection and shipping, we can fabricate and send any type of nozzle or insert you might need. Remember, if you are looking for custom nozzles, rely on Malyn Industrial Ceramics, Inc.
OUR CUSTOM SERVICES GO BEYOND SANDBLASTING & PRESSURE BLAST NOZZLES
At Malyn Industrial Ceramics, Inc, we are proud to offer custom toll hot pressing, grinding & machining and also custom boron carbide parts to our customers nationwide. We offer a wide selection of products but, if you are having trouble finding the right size, let us know and we'd be happy to create a custom product for you. Our goal is to ensure you get the right nozzle and insert needed, no matter the size. Contact us today to learn more about our custom services!