YOUR TRUSTED SOURCE FOR PRESSURE BLAST NOZZLES, CUSTOM NOZZLES, SANDBLASTING NOZZLES & MORE
Having more than 30 years of hands-on experience in the field of hot pressing and sintering advanced ceramic materials, Malyn Industrial Ceramics, Inc. (MICI) is the best source for custom services in the whole U.S.
The company was formed in March of 1986, and our initial purpose was to take advantage of proprietary processing technology to become a producer of advanced ceramic components.
MICI uses its experience and expertise in combining these technologies of hot pressing and sintering. Our boron carbide products are completely engineered and manufactured at our Clarence Center, NY facility, which results in lower manufacturing costs while maintaining the high quality of the nozzles and inserts we produce.
Over the years we have grown into our current 15,000 square foot, 2-shift facility, ensuring fast turnaround and quality service for our customers. We have also purchased Super Titan, a 75+ year old manufacturer of tungsten carbide nozzles used in sandblasting and surface preparation, giving us yet another cost-effective nozzle option to offer to our customers.
Today, we're pleased to offer our products to all of North America, Europe and the Far East.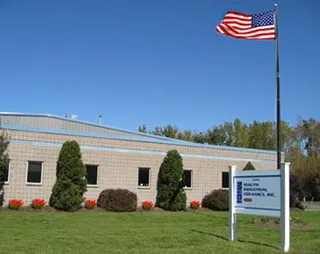 TOTAL CONTROL & EXPERT CUSTOM NOZZLES
By controlling the entire process, from computerized order tracking and mold making to manufacturing, final inspection and shipping, Malyn Industrial Ceramics, Inc. ensures that each customer receives exceptional value for their nozzle or insert investment. We proudly work with customers nationwide and ensure your satisfaction throughout the order process and with the final product.
View our selection of nozzles including: blast nozzles, custom nozzles, sandblasting nozzles, pressure blast nozzles & much more!
To order your nozzles and inserts or for more information about how we can help your company, contact us today!